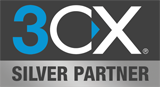 Is your current phone system not keeping up with the demands of your business, or do you find your company missing calls, or worse yet sales due to lacking functionality or features? A new Voice over IP (VoIP) telephone system from Tanda Technologies may be in order. Features that you'll use – If you want to take a call on your laptop, or on your cell phone when you're on the go, or you'd like to access a phone number without any hassle, then Tanda Technologies VoIP services are definitely for you.
The ability to take on your company's workload – With optimized technology, your VoIP system will never go down because too many calls are being made, and the system can grow with your business.
3CX offers a complete Unified Communications solution out of the box.
As an open standards software PBX, installation and management of your phone system has never been easier.
Easy self installation & management
Slash telco & communications costs
Boost productivity with UC: Presence, Chat
Work on the go: Android & iOS clients
Integrated WebRTC Video Conferencing
Improve Customer Service: Click2Call & CRM integration
Install on premise or deploy in YOUR Cloud
By using 3CX, your ongoing telco cost savings will be so significant and so will the cost of buying, expanding and maintaining your PBX.
Decrease your Phone Bill by 80%
Licensing based on number of simultaneous calls and not extensions
Avoid per extension licensing and pay per PBX instead
Make free Inter-office calls and branch calls
Use prominent SIP trunks to reduce outbound call charges
Reduce travel expenses with integrated web conferencing
Eliminate 800 number phone bills with WebRTC integration
Use International DIDs & IP Telephony so customers can call in at competitive rates
With 3CX, you can take your extension wherever you go, from VoIP clients for Android and iOS, Soft Clients for Windows and Mac to clientless web conferencing and the integrated web client, you are guaranteed to be kept in the loop wherever you go.
Download 3CX Clients on your Android / iOS Device 
Use your extension from anywhere
Free VoIP calls with your smartphone
Save battery life with "PUSH" notifications
Connect all clients simultaneously via SIP Forking
Most Progressive Android & iOS VoIP clients in the UC market
Benefit from integrated features such as, Presence, web conferencing, conference calling
Easy to Use Windows & Mac Softphones
Initiate IP Phone calls from your desktop with CTI mode
Work remotely from anywhere
Easily view the presence of your colleagues
Use the Receptionist view to administer calls, then drag and drop calls for a swift call transfer
Launch calls directly from your CRM; integrate seamlessly with Office 365, Google contacts or Internal Phonebook
Automatically obtain reports on customer and agent activities
Includes Wallboard and Q-Manager view
Web Client
Multifunctional Web Client with inclusive multiple features
Integrated WebRTC technology resulting in reduced bandwidth usage
Click to Call Chrome Extension
Free for up to 5 participants
Unlimited users regardless of edition
Initiate a conference with one single click
Correlated operability between VoIP and video
Bandwidth Management and Control
Remote control assistance for quick & easy troubleshooting
Pre-upload PowerPoint & PDFs before meetings
Easy to use polling tool for feedback
If you're not happy with your current phone solution, have outgrown your existing system, or are looking for new features; call us today, and let us help you make the right choice.